Affordable Dentures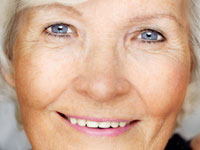 In the best of all possible worlds, false teeth last forever. But in fact, over time, the tissues in your mouth change, and even the best replacement teeth won't fit as well as they once did.
The preferred remedy - a new denture - isn't always feasible or affordable. Dentures are expensive - that's why there are denture relines.
Albeit a temporary solution to slippery dentures, there is no denying that relining can make a difference in how you look, relieve any soreness and, most of all, bolster your self-confidence. And that's important.
So what does relining involve?
There are two ways to go about it. A reline can be fashioned by a dental laboratory. Your prosthodontist takes impressions in his/her office, and the lab rebuilds your prosthodontics in about 24 hours. Optionally, they can reform the liner for you in a single visit. The reline material, a kind of plastic, is cast directly in your mouth and allowed to set. A "quick" reline, though, probably won't last as long as the lab-processed version.
In any case, you'll gain what is called "vertical dimension," new height to your face. The result is a more youthful appearance, and a renewed sense of control. Call your denturist to schedule an evaluation appointment. Or fill out the search form above to search for a dentist.
Is It Time for New Dentures?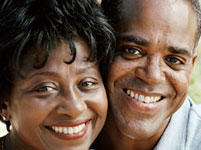 Dentures that fit well can improve your looks and enhance eating and speaking. Talk to your prosthodontist about your current situation and whether you need new dentures. In general, the life expectancy of false teeth is about five to seven years.
Factors that affect the satisfaction and life span of your prosthodontics include:
General health status
Significant weight increase or decrease
Time since loss of teeth
Denture care and cleaning
Tobacco and caffeine use
Shape of your mouth
Changes in facial and oral muscles
Variation in skin tone or color
The color match of false teeth to a natural tooth color can seem to change, especially if the natural teeth are darker due to stains or lighter because of past dental treatment. Also, dentures can wear, stain, chip, or fracture over time. Today's denturists are able to modify the look of smiles and gum tissues in order to compliment existing teeth, skin color, or tone.
Dentures, like all manufactured goods, require regular maintenance and eventual replacement. To maintain proper fit, appearance, function, and to avoid any damage to oral structure, a prosthodontist should regularly evaluate your false teeth. The gum and bone tissues that support dentures undergo changes over time and with age. Often, these changes include a good amount of bone shrinkage. Bone shrinkage causes a denture to become loose, less functional, and slip during eating and speaking. Age-related changes in facial muscles, complexion, and lips also will affect the function and appearance of your prosthodontics. Oral hygiene habits, use of tobacco, and drinking coffee or tea will also affect the appearance of a denture, as well as any odors associated with them.
Since dentures are in use every day, for many years, it is reasonable to periodically replace those that no longer fit properly. If you have not visited a denturist recently, if your false teeth slip, have lost their good looks, cause discomfort, or if they are more than five years old, you may need to replace them.
by Denise J. Fedele, D.M.D., M.S.