What To Do With The Broken Denture - Denture Repair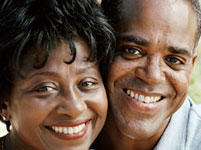 Even though dentures are fabricated from extremely durable materials, they will break, wear out, a tooth will come out, or their fit will change. Then its time for denture repair.
Accidents happen, dogs still like to chew on plates of the dental kind, and trash compacters have never taken kindly to dentures. In fact, it is frequently not a matter of "if," but rather a matter of "when" a denture will become broken, lost, or damaged beyond repair.
One can be assured that a problem will happen when least expected, and immediate, usually important, plans definitely will be altered unless a person is prepared.
Damaged Denture - How to Expect the Unexpected and Be Prepared
A short-term use duplicate denture will bridge the gap while a regular denture is being repaired, renovated, or replaced. Sometimes this type of denture is referred to as an "embarrassment denture" because it helps a person avoid the embarrassment of being without teeth in an emergency or during planned denture maintenance.
While this type of denture may be made at any time from an existing functional denture, it generally is fabricated immediately after a new denture is made. The embarrassment denture is neither as accurate nor as esthetic and durable as the original, but it is adequate and only meant for short-term use. The cost is generally considerably less than the original denture.
Such an interim prosthesis may be relined annually and adjusted in advance to fit the current changing shape of an individual's jaws, and therefore be ready to use at a moment's notice.
However, some individuals choose to have their embarrassment denture relined and adjusted only when they need the short-term denture. Following this latter course means that they will have to wait to wear their interim denture until an appointment can be scheduled with a dentist to complete the reline and any adjustments. But a reline for an embarrassment denture can be done in the dentist's office during a single appointment so a patient may leave with it refitted in the mouth.
In either case, a person would not be without a prosthesis while their regular denture is being worked on.
The Embarrassment Denture Facilitates Planned Periodic Maintenance
All dentures need to be periodically relined to accommodate the constant change in shape of a person's jaws. There are also times when the plastic body of a denture needs to be changed due to deterioration, or the entire denture replaced because of wear or poor fit from changing mouth conditions that can no longer be remedied by relining.
While relines can be completed in one appointment office visit, more durable relines may require that a dentist keep a denture for several days. Replacing the plastic body of a denture (called a rebase) takes several days and making a replacement denture takes several weeks.
It becomes easy to see how an embarrassment denture would solve being without one's regular denture for a period of time, even for planned maintenance, while getting on with one's life.
by Joseph J. Massad, D.D.S.
FAQ Dental Information - Denture and False Teeth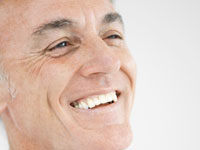 Q. How do you clean your dentures?
A. When cleaning your dentures, you should first rinse away loose food particles thoroughly. Then moisten your toothbrush and apply denture cleanser. Brush every surface, scrubbing gently to avoid damage.
Q. How many times a day does the denture need to be cleaned?
A. The denture needs to be cleaned two to three times daily.
Q. What is good oral hygiene when you have full dentures?
A. In addition to taking care of your dentures, taking care of your mouth also is vital if you wear full dentures. This includes brushing your gums, tongue, and palate every morning with a soft-bristled brush before inserting your dentures. This stimulates your tissues and helps remove plaque.
Q. Do dentures need to be replaced?
A. Dentures will need to be relined, remade, or rebased due to normal wear over a period of time and normal shrinkage of your gums and bones.
Q. What should you do if your dentures crack or break?
A. Call your dentist immediately. Normally, dentures can be repaired quickly, often on the same day. Damaged dentures can cause additional oral health problems, so see your dentist right away. Never attempt to repair dentures yourself. They require professional repair and adjustment.
Q. Why can't you fix dentures that break with glue?
A. Glues often contain harmful chemicals and are not effective in the proper repair of dentures.
Q. What are partial dentures?
A. Partial dentures are dentures that replace only a few missing teeth.
Q. How do you wear a removable partial denture?
A. Removable partial dentures are attached to your natural teeth with metal clasps or devices called precision attachments.
Q. How long will it take to get used to wearing a partial denture?
A. Your partial denture may feel awkward or bulky for the first few weeks, but your mouth will eventually get used to it.
Q. How long should you wear a partial denture?
A. Initially, you may want to wear your partial denture all the time. Your dentist will give you specific instructions on how long it should be worn and when it should be removed. Generally, your mouth tissues need to rest so it is advisable that you take out your partial denture at least 15 minutes per day.
Q. Will the partial denture change the way you speak?
A. Your partial denture may help your speech. It can be difficult to speak clearly when you are missing teeth. However, it also will take time to get used to it.