False Teeth - Usefulness of Denture Adhesives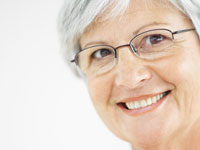 Denture adhesives enhance the retentive interface between the surface of a denture and the underlying tissues upon which false teeth rest.
Optimizing the Interface Space
There is a slight space at the interface between the inside of a denture and the jaw that is usually filled with saliva. As this gap increases, a denture becomes less retentive and stable.
The interface space arises because of material and fabrication limitations used in making a denture. This gap also is contributed to by the constant changing contour and shrinkage of jawbone.
While an interface space exists in all dentures and increases with time, optimum denture function and retention depends upon reducing it. Denture adhesives fill this increasing space, improve suction, and create a sticky contact between a denture and underlying surfaces. This also helps resist foods from collecting under the denture base.
How to Use Denture Adhesives
Thin paste adhesives are preferred to powders since they are already fluid and easier to manage and apply. However, some prefer powder types. Whatever works best for an individual should be used.
Pea-sized amounts of the paste may be placed in a few places within a denture where jaw ridges fit and where the roof of the mouth contacts. A thin film of adhesive spreads out as a denture seats in the mouth. Use the least amount to do the "job."
If excess amounts are necessary, then the opinion of a dentist should be sought since denture maintenance may be necessary. A licensed dentist should be routinely seen at six-month intervals for routine oral examinations and bite adjustments.
A person needs to experiment with how often to apply adhesives. Some apply it before meals while others function satisfactorily all day with one application.
A denture and mouth should be cleaned of all adhesives at least once a day, and the denture should be left out of a cleaned and rinsed mouth for at least an hour a day.
How to Clean Up Your Dentures
It can be difficult removing adhesives. The denture may be cleaned with a brush, soap, and running water, or with a little white distilled vinegar in water.
All adhesives should be removed from the mouth for hygienic purposes. Rinsing with extremely warm water or salt water helps removal. It may be necessary to use a soft toothbrush or wash cloth-like material to assist removal from the mouth tissues.
Advantages of Denture Adhesives
Effectively fills the interface gap between a denture and underlying jaw.
Provides a sense of security with wearing dentures, even with well-fitting dentures when additional confidence is desired.
Facilitates acceptability and builds confidence with wearing new dentures.
Reduces food impaction beneath dentures by closing prosthesis borders.
Helps an individual open their mouth wider for more confident chewing (increases the chewing stroke), rather than eating with small strokes to compensate for concerns about the potential for a denture coming loose.
Decreases the irritation and chafing of mouth tissues from habits such as grinding teeth together (parafunctional activities).
Facilitates wearing dentures for individuals with persistent dry mouth (xerostomia).
Disadvantages of Adhesives
Difficult to remove denture adhesive from the mouth and denture.
A false sense of security that a denture is still satisfactory may develop from using adhesives with a poorly-fitting denture that should be relined, replaced, or maintained in different ways.
by Joseph J. Massad, D.D.S.
The False Teeth Shut-In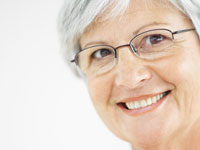 Are you a denture wearer who's afraid to be seen in public because your denture is unattractive? Do you find yourself eating alone because you can't eat foods your friends eat? Do you wear your partial dentures in your pocket?
Prosthodontics wearers, without knowing it, can become dental "shut-ins." They begin, subtly, to reorient their lifestyle around loose dentures. When false teeth don't look or function properly, some people withdraw from their social lives and suffer depression and diminished self-esteem. Some even become recluses.
Tale of a shut-in
One prosthodontics patient - a truck driver - couldn't eat properly with his cheap dentures. At truck stops, he would take his food back to his truck and eat alone. He gave up his only social activity on the road - swapping stories with other drivers over a meal. For two years, he was a prisoner in his own truck.
But many people can reverse this situation. When false teeth look and feel right, a denture wearer's whole mental outlook can brighten.
Eating gives pleasure and a feeling of security learned from early feeding experiences. It's an important part of most social occasions. When a person controls the quality and quantity of his food, he's able to achieve this sense of security and a feeling of self-esteem.
So let's start fresh.
There's no need to feel unattractive or live in fear of a denture faux pas in the company of friends and family. Your dentist can help you regain function, comfort, and a natural appearance by replacing or refitting your denture. A well-fitting denture is a small sort of miracle, but one that works wonders for your self-esteem. Don't be a shut-in. Call your prosthodontist, and start smiling again.